One of the oldest methods of long distance communication is the smoke signal.  Since last Wednesday, March 11, 2015 Jamaica has been sending an urgent and persistent smoke signal for all who care to see: H-E-L-P.
The Riverton Dump, the main dumping site for all manner of waste produced by Jamaicans, is on fire.  It is in south east St. Catherine St. Andrew along the border with St. Catherine and it is big.  (Editor's note: So, I thought it was in St. Andrew but the NSWMA website says, in at least 2 places, that Riverton is in St. Catherine so I deferred to them until my big bro messaged to loud me up and to correct it adding that if NSWMA says it's St. Catherine "feel free to call them big dunce."  Mi shame because I could easily have checked with the geography nerd, my mother.  No further comment on NSWMA's error.) Riverton Dump is 294 acres (119 hectares).  There is a lot of waste at Riverton.  According to the Jamaica Environmental Trust (JET) and the National Solid Waste Management Agency (NSWMA), Riverton is home to 60% of Jamaica's mostly unsorted waste.  The Riverton Dump has been in use for at least 25 years.  Currently, the Riverton Dump is home to domestic and commercial waste from Kingston and St. Andrew (KSAC), St. Catherine, and Clarendon.  The waste deposited at Riverton Dump is not really sorted – tires are kinda set away from but still live with old refrigerators and stoves, old and broken cell phones sit alongside plastic bottles and stubby pencils and old shoes and egg shells and chicken bones…and maybe medical waste and dead human bodies too – and the Riverton Dump is unsecured.  Adjoining the Riverton Dump are densely populated communities, mangroves, and a river; the Riverton Dump is apparently in an area called the Riverton Watershed.  Many nearby residents earn a living as "dump pickers."
The Riverton Dump has been on fire for a week.
Sixty per-cent of Jamaica's unsorted mismanaged waste is burning or under threat of burning. 
H
It is not the first time that fire has been set to Riverton Dump and though this is clearly the largest portion of the Dump to be on fire, no government official has been honest enough to say exactly how much of Riverton Dump is on fire.  The smoke from the fire reaches wherever it wants, having no master but the wind that wafts it into schools, offices, and homes.  It is estimated that as much as 60% – 90% of the 294 acre Riverton Dump is burning.  The smoke from the fire is noticeable from atop hills and the Blue Mountains, the air, and from as far as 10 miles away.  It is noticeable from the ground when thick clouds of smoke descend on citizens all across KSAC and parts of St. Catherine (insert pictures).  In these three parishes live approximately 1,184,386 of Jamaica's 2,711,476 people; that is 43.67% of Jamaica's population.  (And based on anecdotal reports the effects are being felt in these 3 parishes.)  The smoke has caused schools to be closed, has caused the nation's main ports to be closed, and it has caused people to flee the affected areas.  So far, the effects of the smoke have required almost 800 people to seek medical care at public clinics and hospitals.  It is likely that hundreds more have been to private doctors.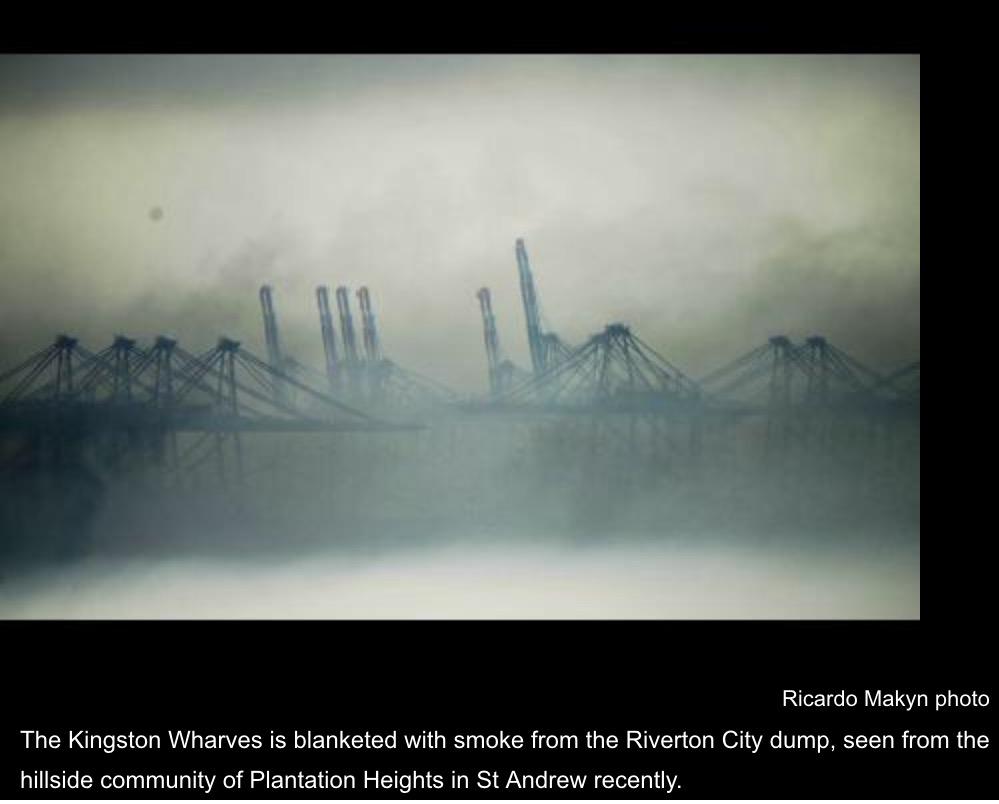 E
Since the fire at the Riverton Dump started and the smoke spread, the Government of Jamaica has been slow to respond with information on the effect on health or even whether the national high school entrance exam (GSAT) should be postponed.  It took the Government of Jamaica 5 days from the start of the fire, and 3 days after its severity was clear, to decide to postpone GSAT by one week, despite 40-odd schools having to close at the onset of the fire because of smoke.  In 2012 the Riverton Dump was on fire for 6 days; it took 17 days to completely out that fire.
It's been 7 days and the March 2015 Riverton Dump fire still burns and appears at times to grow.  The smoke continues to descend in waves and without warning; schools must still close and people must still choke and stumble their way about. At times it seems to be worse than at the start of the fire.
Riverton fire is worse this afternoon - visible plume, new black smoke, blowing towards Red Hills #RivertonShame— Diana McCaulay (@dmccaulay) March 18, 2015
Yet, Jamaica's Ministry of Health (apparently ignoring the 12-year history of fires at the Riverton Dump and the size of this fire) claims that no long-term health effects should be expected from the smoke of burning tires, burning cell phones, burning shoes, burning paper, burning chicken bones, burning refrigerators, possibly burning asbestos-containing items, and millions and millions of burning plastic bottles.  And yes, we should expect that there is methane too.  So it boggles the mind that at the onset of the fire, the National Environmental Protection Agency (NEPA) stated that it would not be doing additional any air quality tests as the known pollutants comprising the smoke are known from tests done during the last fire.  Yes folks, the things that make up this smoke caused by this fire are exactly the same and in the same proportion as 2014's smaller fire.  Never mind that more waste is burning or that there is more waste to burn. 
L
No nearby residents have been forcibly evacuated.
No information has been given about expected wind direction accompanied by suggestions on when it's best (or not) to be outside because, of course, life and work must continue in the country's capital.
No one has said what is burning.
No one has said how much is burning.
No one has said how the fire is burning.
No national emergency has been declared (see above about the number of people exposed before you respond with "Jamaica is not Kingston" or some such).
P
It is clear to me that the Government of Jamaica is unequal to the task of responding to this fire and abating the smoke.  Therefore, let us accept the March 2015 Riverton Dump fire for what it is – a distress call – and request quick and ready international assistance from whomever can offer it.  I hear there's some dude who's the "Leader of the Free World" scheduled to visit Jamaica in the next 3 weeks?  His trip required a special announcement in Parliament while the very real and visible Riverton Dump fire and its smoke are relegated to frustrating soundbites and squabbling.  So, we may as well go ahead and ask him for assistance.  Maybe with his country's (and others') help the fire will be out and smoke abated and its pollutants dissipated by the time he steps off Air Force One….  
Please be clear that this is not a matter of "run fi farrin help."  It is simply the case, as folks like @deikamorrison have been pointing out (see all of her Twitter timeline for the past week), that the longer there is exposure to this unknown mix of toxic chemicals the more serious and devastating the health effects will be. This is not an isolated event: the fire at the Riverton Dump is producing smoke that contains carcinogenic (aka cancer-causing) pollutants and that smoke is being spread all over.  Many of these pollutants linger even when there is not smoke.  We do not have to wait to see if long-term effects like lung cancer manifest because we already see and know very serious short-term effects: breathing trouble, skin irritation, eye irritation, persistent headaches.  The Government of Jamaica does not have the time to putz around and stumble about in the dark – literally at times depending on how the smoke is blowing – figuring out solutions as it goes along Approximately 1.1 million people are in immediate danger, more than half the country's population. Though comparatively the causes were very different, the casualties more immediate, and the images more visceral and heartbreaking, the severity of the impact of the fire at the Riverton Dump cannot be ignored: this is our Bhopal (gas leak and explosion) or Chernobyl (nuclear power plant accident).  
The March 2015 Riverton Dump fire requires an urgency and resources we do not have (and to be clear: this is despite best efforts of an understaffed Fire Brigade). Acknowledge the distress call, Madam Prime Minister: ASK FOR HELP.Filed under: jamaica, jamaica's environment, news worthy